Last week (February 10 to 15) took place Latvian winter championship for U14 and U18 groups.
In main draw participated 8 of our students – 4 players in U14 and 4 in U18.
High 3rd place took Patrīcija Špaka, who in the fight for the 3rd place in U14 won over Stefānija Poļišķuka in three sets the 4-6 6-2 6-0. But in U18 Marta Pagraba missed success a little bit – in the fight for 3rd place with 4-6 4-6 lost to Monika Kavace. It should be noted that both Patrīcija and Marta participated in the older group. Patrīcija main group is U12, but for Marta it's U16.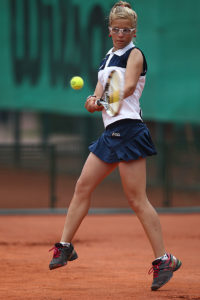 Our other students results:
Girls U14:
Katrīna Lasmane – 13th-16th place
Alise Frickausa – 13th-16th place
Boys U14:
Renārs Grodskis – 7th-8th place
Girls U18:
Katrīna Laukšteine – 11th-12th place
Agate Gurecka – 13th-16th place
Boys U18:
Toms Rolis – 6th place