Has finished Latvian championship for U12 and U16 age groups. Students from Liepāja Tennis Sports schools had good results.
In U12 age group for girls Patrīcija Špaka took 2nd place, at final with a score 6/0 6/4 she lost to Stefānija Poļiščuka. Elza Tomase took 3rd place, with a score 6/2 6/1 she won over our other student – Veronika Zalcmane.
In U16 age group for girls our Rebeka Mertena became a champion, in game for 1st place she won over Gundega Pastore with 6/2 6/2. 4th place took Signija Stībele, in a game for 3rd place she lost to S.Oļesovai with 6/3 6/2. Marta Pagraba took 5th place.
In U16 group for boys our Toms Rolis took 4th place. Our students had successful starts at doubles tournament. In U12 group our duet Špaka/Tomase izcīnīja became champions, but Zalcmane/Vindiga took 4th place. Also in U16 group champion title went to our students – Zīverte/Pagraba, but in boys competition Grodskis/Rolis took silver medals. In mixed doubles one more winn took our Rebeka Mertena which in pair with Grīnvalds from Rīga, in final won over Liepaja Tennis Sports school pair Rolis/Pagraba. Bronze medal went to our tennis player – Zīverte, who was playing in pair with Jakovļevs from Riga.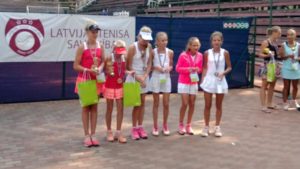 Our students overall took 9 medals in this tournament – 4 gold, 3 silver, 2 bronze. Congratilation to Latvian championship medalists!