January 9th to 11th at Jelgava Tennis center took place Latvian Tennis union cup 1st leg for U18 age group. Liepaja Tennis Sports school was represented by 6 players.
Agate Gurecka participated in qualifications tournament, but unfortunately she couldn't get into the main draw by loosing to Marupe TC representative Annija Zeihmane with 6/3 2/6 4/6.
In Main draw participated Rebeka Mertena, Elīna Zīverte, Marta Pagraba, Toms Rolis and Renārs Grodskis. All players from Liepaja won the 1st round and got into the quarterfinals. In second game M.Pagraba, T.Rolis and R.Grodskis experienced lost, so the tournament was over for them. Sporty success helped to get into the final to Elīna Zīverte (coach Olga Bordjugova). In semifinal she had to compete against tournaments 1st seeded Daniela Vismane, but Daniela did not show up for the game, so Elīna got into the final. Second finalist was our Rebeka Mertena (coach Daņils Kozlovs). In semifinal she won over Elīza Buka (Enri TC) with a score 3/6 6/2 6/1.
In game for the champion title between both players from Liepaja, better was Rebeka Mertena, she won over Elīna with a score 6/4 6/2. This time tennis players from Liepāja took home gold and silver medals. Congratulations to girls and we wish luck in other LTU tournaments as well as in other tournaments in Latvia and abroad.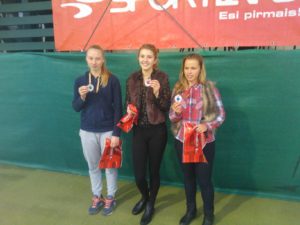 We inform that in year 2015, 2nd category tournaments are taking place as a LTU cup in all age groups and consists from 8 legs. Participation is obligatory in 6 legs and best 6 results will be rated.
Next LTU cup 1st leg will take place in January 17th to 18th at TC Ādaži for U12 age group.