From July 3rd to 5th in Cēsīs took place Latvian Youth Olympiad. In tennis competition Liepāja was represented by students of Liepaja Tennis Sport school Alise Grundule, Katrīna Lasmane, Renārs Grodskis and Kristers Skābe. Despite high weather temperatures our new tennis players played well.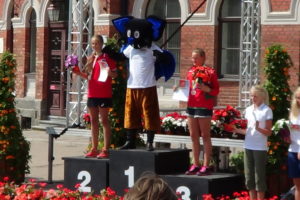 In girls Singles our Katrīna and Alise competed for the bronze medal, this time better was Alise Grundule with a score 2/6 6/3 6/0. In semifinals Katrīna lost to the next winner of Olympiad and Latvian team 1st number in U16 – Daniela Vismane, but Alise lost to Kristiana Linda Zahare.
In boys Singles our Renārs Grodskis took bronze medal, in game for the 3rd place he won over representative from Daugavpils, before that, in semifinals he lost to other representative from Daugavpils – Fjodorovam. Kristers Skābe took 9th place.
In girls Doubles Grundule/Lasmane took 3rd place, by winning over pair from Rēzekne, but boys in Doubles – Grodskis/Skābe took 2nd place, by loosing in Final to pair from Daugavpils in intense game.