August 26-28 in Mārupe tennis courts took place 7th leg of LTU cup for U18 age group. Liepāja Tennis Sport school was represented by 4 tennis players – Marta Pagraba, Elīna Zīverte, Elza Tomase and Toms Rolis.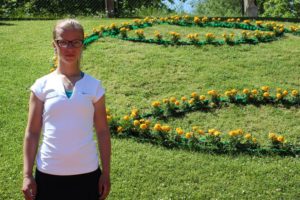 From girls, the best results was to Marta Pagraba (coach O.Bordjugova), who won silver by loosing in final to Kristiana Linda Zahare (Orange Tennis) with 6/2 6/2. E.Zīverte (coahc O.Bordjugova) lost in the second round to the tournament favorite A.Čerņeckas with 6/0 6/2, but E.Tomase (coach I.Kublačova) lost already in the first game of the tournament to Elīza Buka from Rīga with 6/3 7/6(4).
Toms Rolis (coach D.Kozlovs) this time became championship in this LTU cup leg by winning in final over Kārlis Ozoliņš from Rīga with 6/2 6/3.
Congratulations!