Liepāja tennis team has returned from European Senior Club Championship, which took place from September 21 to 26 in Spain. This was already the 3rd time, when tennis club from Liepāja has the honor to represent Latvia by winning in Latvian Club Championship.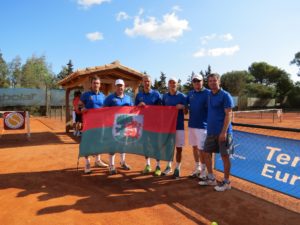 This year the competition took place in south Spain – near from city La Manga – thank to the support of Liepaja City hall our team could travel to Spain.
This year our team in the 35+ group had very strong club teams from Netherlands, Turkey, Spain and Great Britain. But team Liepaja could show honorable resistance.
Team Liepaja thanks all supporters, especially Liepaja City hall and Liepaja Sport department, Liepaja Special Economic Zone and "Elektrons&Ko".
In European championship in team Liepaja played only formed students of Liepaja Tennis Sport school: playing captain Andrejs Koļesins, Eduards Grodskis, Andis Čerņecovs, Gints Rolis, Didzis Holštroms and Artūrs Eglītis. Two more former LTSS students Erlands Lazdāns and Andis Cirsis supported their team from home in Latvia.