March 11th – 13th, in Ādaži Tennis center took place LTU cup 3rd leg for U12 age group. Liepaja Tennis Sport school was represented by 8 new tennis players. Kristiāns Lasmanis, Elizabete Deglava and Enija Paula Aploka, started the tournament by participating in qualification tournament. Into the Main draw got only E.P.Aploka.
In Main draw the best result had Dāvids Špaks, who in Final played against Ruslans Filipenko (Lielupes TC), but because of the health issues, by score 6/4 3/6 0/2, Dāvids couldn't finish the game, so took 2nd place.
At girls competition 3rd place was taken by Evelīna Ķīvīte, who after loosing a hard and interesting semifinal game, in game for 3rd place won over Amēlija Šūpulniece (ACB/VL Tenisa skola) with 6/3 6/3 and took bronze medal.
In the 1st round of tournament Turnīra won our Karolīna Skābe, but in 2nd round she lost to next winner of the tournament D.Vorslava.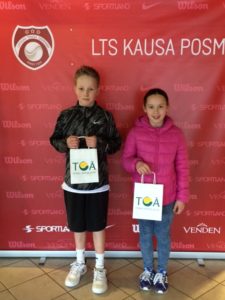 Meanwhile, Enija Paula Aploka, Ričards Špaks and Ralfs Laukagals lost their 1st round games. But they had the possibility to play in the Consolation tournament, which was won by Liepāja Tennis Sport school students – Enija Paula Aploka and Ričards Špaks.
March 17th – 19th will take place next LTU cup leg for U18.