July 1st to 3rd, at Cēsu tennis courts took place tennis tournament of Latvian Olympics, where good success had our players.
At women competition the Latvian Olympics gold was won by our Rebeka Mertena, who in Final won over Kristiāna Zahare (Riga) with 6/3 6/4. In game for 3rd place competed both our players – Marta Pagraba against Elīna Zīverte. Bronze was taken by Marta Pagraba with 6/3 6/3.
In women Doubles our pair Mertena/Pagraba lost in Final to Zahare/Veinberga (Riga) with 3/6 6/4 10/8 and took Silver medal.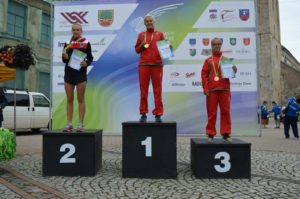 In Men Doubles our Kozlovs/Rolis in the game for Bronze won over Breicis/Krūze (Valmiera) with 6/3 6/1 and took 3rd place.