August 2016, in tennis center "Lielupe" took place Latvian championship for all age groups where our students won 15 medals in overall – 10 gold, 2 silver and 3 bronze.
In U12 age group for boys the champion title in Singles and Doubles was won by Dāvids Špaks, who in Doubles played with his training partner Dāvis Rolis. At girls competition gold medal was won in Doubles by our Evelīna Ķīvīte who played together with Amēlija Šūpulniece from Rīga.
In U14 age group for boys silver medal was taken by our Valērijs Vorobjovs, meanwhile in Doubles playing in pair with Daniels Linkuns-Morozovs they remained unbeaten. At girls competition double champion became our Elza Tomase. In Doubles she played together with Dārta Daļecka from Rīga. Bronze medal was taken by our duet Alise Vindiga and Dana Gribeļska.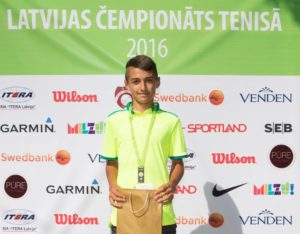 In U16 age group for boys bronze was taken by Ulmanis/Grodskis. At girls competition our Patrīcija Špaka was the best in Singles and Doubles, together with Stefānija Poļiščuka. In Doubles Sivler was won by our Alise Grundule and Katrīna Lasmane.
In U18 age group for boys the Doubles champions became Jakovļevs/Rolis. At girls competition 1st place in Singles was taken by our Rebeka Mertena, but in Doubles, together with our Marta Pagraba they won Bronze.
Congratulations!
Photo by Latvian Tennis Union.