Already second year in the courts of Liepaja Tennis Sport school took place ITF tournament "Venden Cup Liepaja 2016".
At the tournament participated 6 Liepaja Tennis Sport school students – 3 girls and 3 boys. Toms Rolis and Renārs Grodskis started with qualifiers, but unfortunately they couldn't manage to get into the Main draw. At Main draw competed Valērijs Vorobjovs, Patrīcija Špaka, Elza Tomase and Rebeka Mertena.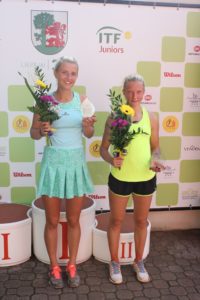 The best success had our Rebeka, who managed to get into the Semifinal, where in a long and intense game she lost to the next tournament champion Anastasia Kulikova (Russia) with 6/1 5/7 1/6.
Elza won in two rounds, and lost only in game for getting into the Semifinals to next Silver medalist Katrina Saar (Estonia) with 3/6 3/6. Unfortunately Patrīcija and Valērijs lost already in the 1st Round.
In Doubles our girls showed good game. Elza Tomase and Elīza Buka, by receiving the Wild card to play in the Doubles, had good games and won Silver medals, by loosing only in Final to Finnish and Belarus pair with 2/6 1/6.