At the end of October in Lielupe tennis center took place LTU (Latvian Tennis union) cup conclusion – LTU MASTERS, where competed TOP 8 in every age group according to LTU cup legs in 2016. At LTU Masters participated 13 Liepaja Tennis Sport school students.
In U12 age group for boys, our Dāvids Špaks in a Final lost to Daniels Tens (TK Spars) with 6/4 1/6 0/6 and took Silver medal. At girls copmetition our Evelīna Ķīvīte in a game for 3rd place lost to Sindija Manovska (Rīga) with 6/4 6/2.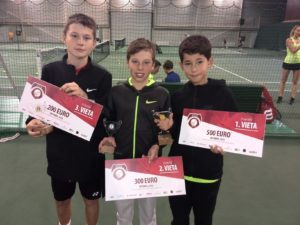 In U14 age group for girls the Final was between two our students. For the Gold competed Patrīcija Špaka with Elza Tomase. This time our Elza won the duel with 6/2 6/3.
In U18 age group for boys our Toms Rolis made a small sensation by winning in the 1st round over 1st seeded Andris Gudiņš (Mārupe TS) with 2/6 6/2 6/3. Unfortunately in Final our Toms lost to other Mārupe TS student Teodors Pukše with 1/6 5/7 and took 2nd place.
In U18 age group for girls Gold was taken by our Rebeka Mertena. In Final she won over Kamilla Bartone (ACB/VL Tennis school) with 6/3 3/6 6/3.
With this tournament the LTU cup 2016 has concluded. New challenges are coming in 2017.