Few Liepaja Tennis Sport school students at beginning of July participated in two international tournaments outside Latvia.
July 1-8, Valerijs Vorobjovs and Alise Vindiga participated at Tennis Europe tournament "Vilnius Tennis Academy Cup 2017" for U16 which took place in Vilnius, Lithuania. Alise Vindiga in 1st round won over Daniele Zukauskaite (Lithuania) with 6-0 6-3, but in 2nd round she lost to Anna Lebedeva (Russia) with 7-5 2-6 3-6. Meanwhile Valerijs Vorobjovs in 1st round won over Nikita Babenko (Lithuania) with 7-5 6-1. In 2nd round he won over Vilius Sauciunas (Lithuania) with 6-1 6-3. But in Quarterfinals Valerijs unfortunately lost to Matas Bruzas (Lithuania) with 1-6 2-6.
July 4-8, Rebeka Margareta Mertena and Patrīcija Špaka participated at ITF Juniors "16th Tallink Cup 2017" for U18 which took place in Tallinn, Estonia. Patrīcija Špaka began with victory over Lisse Kubre (Estonia) with 6-1 6-2, but in 2nd round she lost to Ella Haavisto (Finland) with 2-6 6-0 2-6. Meanwhile Rebeka Margareta Mertena began with win over Emilia Salo (Finland) with 6-1 6-3. In 2nd round she managed to get over Kristiāna Linda Zahare (Latvia) with 6-1 6-0. In Quarterfinals Rebeka won over Christina Elena Tiglea (Italy) with 6-2 6-1. In Semifinal Rebeka won over Carol Plakk (Estonia) with 6-4 6-4. But in Final she met with Patrīcijas opponent – Ella Haavisto (Finland). And the victory with 7-6(7) 6-2 gave to Rebeka Margareta Mertena the ITF Tallinn tournament winner title.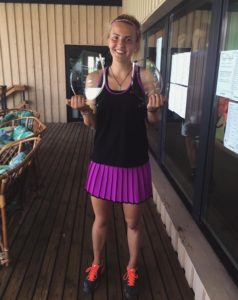 Parallel to Singles games Rebeka Margareta Mertena in pair with Sofiya Chekhlystova (Estonia), participated in Doubles. In 1st round they won over Italian pair Linda Cagnazzo and Cristina Elena Tiglea with 6-2 6-4. In intense Quarterfinal they won over Estonians Lissi Kubre and Helena Narmont with 6-4 4-6 [10-4]. In Semifinal Rebeka and Sofiya met with other Latvian/Estonian pair – Stefānija Poļisčuk and Carol Plakk, in intense game Rebeka and Sofiya won with 0-6 6-3 [13-11]. In Final they met with pair from Russia – Mayya Gorbunova and Mariia Tkacheva. Rebeka Margareta Mertena and Sofiya Chekhlystova celebrated victory with 6-3 6-4, and took the 16th Tallink Cup Champions title.
Congratulations to Rebeka Margareta Mertena with double victory (Singles and Doubles) in this tournament!!!