July 15 and 16 in Riga took place "Rīgas satiksmes tenisa kluba balvas izcīņa" (Riga Traffic Tennis Club Prix) for U8, U9 and U10 age groups. Liepaja Tennis Sport school at U8 age group was represented by Gustavs Siliņš, Orests Ronis, Karolīna Lāce, Jeļizaveta Rižkova and Paula Gurecka. At U10 age group – Elizabete Marta Hamitova, Alise Latiša un Anna Azarova.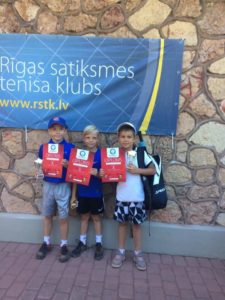 In U8 for boys Gustavs Siliņš and Orests Ronis were seeded in the same subdivision. If unfortunately Gustavs Siliņš could win in any game, then Orests Ronis won all games in subdivision and had the possibility to compete for the victory in tournament. In Semifinal Orests guva won over Jegors Haritonovs with 11-7 and in Final Orests Ronis won over Henrijs Miks Gulāns with 11-5. So Orests Ronis took the victory in the tournament.
U8 for girls Jeļizaveta Rižkova, Paula Gurecka and Karolīna Lāce competed in different subdivisions and all of them took 1st place in the subdivision, so they all had to compete for the victory in tournament. In Liepaja player Semifinal Karolīna Lāce won over Paula Gurecka with 11-7, but in second Semifinal our Jeļizaveta Rižkova lost to Jekaterina Potapenko from Riga with 11-5. In the game for the 3rd place, which took place between both Liepaja Tennis Sport school players, Paula Gurecka won over Jeļizaveta Rižkova with 11-5 and took 3rd place. Meanwhile in Final Karolīna Lāce won over Jekaterina Potapenko with 11-5 and took the victory in the tournament.
In U10 for girls Alise Latiša by winning one of four games took 4th place in subdivision and later by playing for 13th – 16th place won all games and took 13th place overall. Anna Azarova could win three out of four games in subdivision and at the end took 7th/8th place. But Elizabete Marta Hamitova by winning three out of four games in her subdivision took 1st place. Later in Semifinal Elizabete won with 4-1 over Elīza Kupruka. Unfortunately in Final Elizabete lost with 1-4 against Adelina Lačinova. At the end Elizabete Marta Hamitova took 2nd place in the overall tournament.