October 26-29 in Lithuanian city Klaipeda took place international tournament "Klaipeda Autumn Open 2017 Carlsberg Cup" for seniors. Liepaja Tennis Sport school representative Eduards Grodskis participated in V40.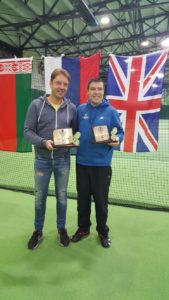 In the 1st round of Singles Eduards with 6-3 6-0 won over Nerijus Bendinskas (Lithuania), in Quarterfinal with 6-2 6-2 he won over Viktoras Gasiunas (Lithuania). To get into the Final Eduards had an intense game, where he with 6-4 4-6 6-2 won over Konstantin Sushkov (Russia). In Final against Skrimantas Jutkonis (Lithuania) with 6-1 6-3 Eduards succeeded, so Eduards Grodskis won gold medal in Klaipeda tournament.
Meanwhile Singles tournament, Eduards Grodskis in V35 together with Tomas Butvilas (Lithuania) competed in Doubles, where they managed to get into the Final. Playing in Final against Robertas Blagusauskas (Lithuania) and Viktoras Gasiunas (Lithuania) with 6-3 6-2 success was made, so Eduards Grodskis and Tomas Butvilas won gold medal in Doubles. At the end Eduards Grodskis managed to get double victory in the tournament in Klaipeda.