January 25.-27. in Jurmala took place 1st leg of LTU cup for U14 age group. Liepaja Tennis Sport school was represented by Dāvids Špaks, Ričards Špaks, Evelīna Ķīvīte, Enija Paula Aploka and Karolīna Skābe.
Ričards Špaks finished already in 1st Round, but Dāvids Špaks in Semifinal lost with 3-6 2-6. In the game for Bronze he won with easy 6-0 6-0 so at the end Dāvids Špaks took Bronze medal.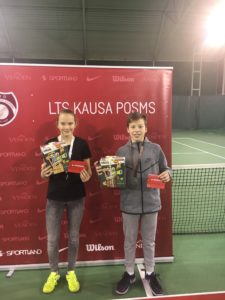 Karolīna Skābe finished in 1st Round. Enija Paula Aploka finished in 2nd Round. Evelīna Ķīvīte manged to get into the Final, where in intense game with 6-4 2-6 1-6 she lost, so at the end Evelīna Ķīvīte finished with Silver medal.