February 2-4 in Riga took place 2nd leg of LTU cup for U18. Liepaja Tennis Sport school in Main draw was represented by Valerijs Vorobjovs, Renārs Grodskis, Elza Tomase, Alise Vindiga, Veronika Zalcmane, but in Qualifiers by Alise Grundule.
Valerijs Vorobjovs and Renārs Grodskis till the Final won all games, so for the win in the tournament they had to go head to head. With 6-2 6-3 this time succeeded Valerijs, so Renārs Grodskis finished in 2nd place, but Valerijs Vorobjovs finished in 1st place.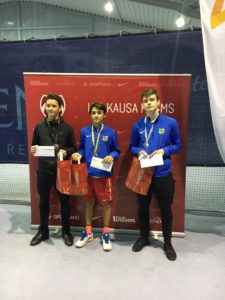 In girls competition, Alise Grundule couldn't qualify to the Main draw, but Alise Vindiga and Veronika Zalcmane lost already in the 1st Round of Main draw. However Elza Tomase in 1st Round in Main draw with 6-4 6-0 won over Elizabete Kļavinska (Mārupes TS). In 2nd Round Elza with 6-4 6-1 won over Nika Balmiseva (ACB/VL tenisa skola). In Semifinal Elza played against Sabīne Rutlauka (Rīgas satiksmes TK) and with 6-7(3) 2-6, so Elza Tomase finished in shared 3rd place.