March 19-27 in Ādaži took place ITF Juniors tournament "Ādaži Open U18". Liepaja Tennis Sport school was represented by Valerijs Vorobjovs, Patrīcija Špaka and Elza Tomase.
Valerijs Vorobjovs, unfortunately, couldn't qualify to Main draw. Elza Tomase in 1st round of Main draw lost. Meanwhile Patrīcija Špaka in 1st round with won over 6-2 6-2 Vera Tagasheva (Ukraine). In 2nd round with 6-0 6-0 Patrīcija won over Katrina Jensrud (Norway). In Quarterfinal Patrīcija with 6-4 6-7(7) 6-2 won over Daria Repina (Russia). In Semifinal against Iveta Daujotaite (Lithuania) Patrīcija with 6-4 6-2 granted place in Final. Patrīcija in Final against Melissa Boyden (Netherlands) with 6-3 6-0 took the 1st place in the tournament.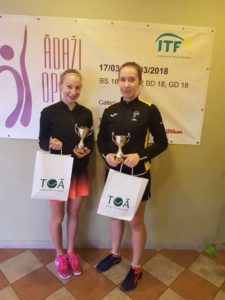 Elza Tomase in pair with Laura Slišāne (Latvia) managed to get till 2nd round. Meanwhile, Patrīcija Špaka in pair with Iveta Daujotaite (Lietuva) managed to get to the Doubles Final, where with 4-6 6-0 [10-7] against Santa Strombach (Germany) and Kristiāna Zahare (Latvia) won and took the won in the tournament. At the end, Patrīcija Špaka took the double victory in the whole tournament.