May 19 till 23 in Mārupe Tennis school took place ITF tournament "Latvian Healthcare Seniors Tournament". Liepaja Tennis Sport school was represented by Andis Aigars.
In Singles Andis Aigars competed in +40 age group. In Quarterfinals Andis with 2-6 6-2 6-1 won over Oskars Dagilis (Ādaži TC). In Semifinal Andis continued to win, this time with 6-2 6-1 over Aivars Linkevičs (Biedrība Tennis Rīgā). In Final Andis had to compete against Maciej Bando (Poland) and in intense game with 6-7(5) 5-7 unfortunately Andis lost, so in overall Andis Aigars took 2nd place.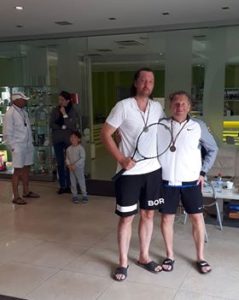 Andis Aigars competed as well in +35 Doubles by playing together with Kaspars Kulbergs (ACB/VL tenisa skola). In Quarterfinals Andis with Kaspars won over +40 Singles winner Maciej Bando who played together with Andrzej Gasienica-Roj (Poland) with 7-5 6-2. In Semifinal with 6-4 6-3 Andis and Kaspars won over 1st seeded Latvian pair Andris Krūmiņš and Aivars Linkevičs. In Final with 6-3 7-5 they won over other Latvian pair – Māris Sīlītis and Hardijs Viškers. So in overall Andis Aigars and Kaspars Kulbergs took the 1st place in +35 Doubles tournament!