To improve Liepaja sports infrastructure and strengthen the tennis traditions in Liepaja, Saturday, April 13, in celebratory and sporty vibe the new LOC tennis hall has been officially opened. In the new sport complex are included five indoor courts, gym and recreation area, outdoors and beach tennis fields, aswell in the hall are located administrative division, sports goods store and cafe.
Tennis hall is planned to raise the training quality of education establishmend students and sport club members through the year. New tennis hall will allow to organize new international level tournaments in Liepaja as well it will allow to continue the training process while the tournaments will be ongoing.
"Today Liepaja, our citizends and guests has a celebration, because the tennis, who is part of our city for more than hundred years and has risen international tennis stars, has a new home. The new tennis hall wouldn't be possible withouth the support of government, Latvian Tennis union and our own ambitions. I want to than everyone, who has done their job, to have such level sport building in our city. The following tasks will be to fill this tennis hall with quality content – trainers, students, local and international competition. Liepaja municipality will provide support, so the words "Liepaja" and "tennis" would sound in closer and professional quality sound." in the openning speach said Liepaja mayor Jānis Vilnītis.
New sport infrastructure will be an advantage for the next door secondary school students, who will have the possibility to organize their sport lessons in modern and comfy stadium. Sport and gym will be available to everyone after the trainings.
"We have more than 200 children and youngsters, who are training at the Liepaja Tennis sport school and from now on they will have the possibility to use one of the modern sport buildings in the country. Tennis is a sport, which toughens and disciplins, makes you to be faster and at the same time more stronger, it makes you watch your opponent and to think. I am very glad, that today in the Liepaja tennis life starts a new leg," admitted Liepaja deputy mayor in strategic planning Uldis Sesks.
In the festive event took part Latvian Ministry of Education and science Sports department state deputy secretary – head of department Edgars Severs, Vicepresident of Latvian Olympic comittee Einars Fogelis, President of the Latvian Tennis union Juris Savickis, Liepaja municipality and sport establishemnt managment representatives, AS "UPB" representative Oskars Mors, project managers, as well as the students and trainers of Liepaja Tennis sport school, Liepaja inhabitants, tennis professionals and supporters.
Unfortunatelly because of health issues, the openning of LOC tennis hall was not honored by Latvian leading tennis player, Liepaja born and the birthday girl – Anastasija Sevastova. Anastasija sent a video greeting, but the atendees sent her back specially organized greeting, to congratulate our player in her birthday.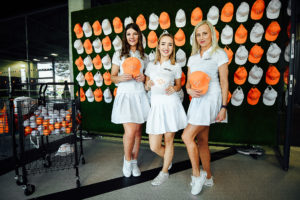 In the 5988 sq.m. of LOC tennis hall are available five indoors tennis courts with hard surface and warm-up zone, gym with the new generation training equipment, White hall for TRX and free movement, group and individual trainings, which can be used as well for conferences and recreation, meanwhile, Red hall is for smaller group trainings.
In 15 300 sq.m. outdoors area around the hall are four open-air tennis courts with hard surface and warm-up wall, six beach tennis and voleyball courts. For the convenience of guests – information centre, changing rooms, sporting goods store and cafe are available.
The designing and building of LOC tennis hall was done by AS "UPB" for 7,5 million euro. The building of tennis hall was cofinanced by Latvian state and Liepaja municipality.
More pictures from the openning event you can find in "Gallery".