April 17, in the White hall of the new Liepaja Tennis hall took place seminar- presentation with the topic "Get higher education in USA while playing tennis. What to do, to receive scholarship for studies".
Seminar in collaboration with Liepaja Tennis sport school organized Liepaja born, Liepaja Tennis sport school graduate, Rollins College graduate, Latvian national team player, coach, head of tennis center in Orlando, USA – Anžela Žguna, who lives and works in the USA already more than 15 years, as well head of Liepaja Sport department Elans Strazdiņš.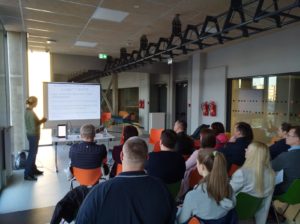 Anžela Žguna in the seminar for children from age 14 and parents, who would like for their kids to achieve better results in tennis main topic was to find out what is necessary to play and study tennis in USA.