January 20 – 26 in LOC Tennis hall with the support of Liepaja Municipality and Latvian Tennis Union will take place ITF W15 category tournament for women "Liepaja Open" with 15 000 USD prize money.
In the tournament will participate women from WTA ranking. Majority of them can be found among 500 best tennis players of the world. At the moment the interest to participate has shown tennis players from Turkey, Switzerland, Great Britain, Germany, Russia, Macedonia, Netherlands, Italy, Bulgaria, Finland, Slovakia, France, Hungary, Sweden, Serbia, Estonia, Norway, Czech Republic, USA, Croatia, Lithuania, Israel, Austria and of course Latvia. At the moment, highest ranked player from WTA is Turkey representative Ipek Soylu, who is ranked in 276 place.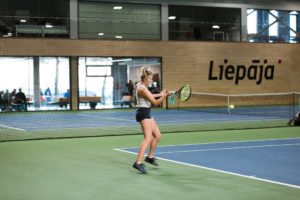 Liepaja Tennis sport school will be represented by Elza Tomase and Alise Vindiga, who have received Wild card.
Everyone is welcome to support the tennis players in the LOC Tennis hall. Entrance is for free.
This kind of tournament will be organized in Liepaja for the first time. Last time in Latvia ITF Women's World Tennis Tour was organized in 1997, in Jūrmala.
Photo: Mārtiņš Vējš