As informed before, January 20-26 in Liepaja LOC Tennis hall will take place ITF Women's World Tennis Tour W15 tournament "Liepaja Open" with support from Liepaja Municipality and Latvian Tennis Union. The tournament will have 15 000 USD prize money.
In the coming of the tournament, there has been a small changes in the participants list. We informed before, that the highest WTA ranking player will be Ipek Soylu from Turkey, but she has withdraw her participation. At the moment the WTA highest ranked tennis player is Sarah-Rebecca Sekulic from Germany. She is ranked 417th in the WTA rankings.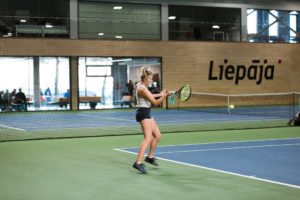 Good news for Liepaja tennis has arrived, because in addition to Liepaja Tennis sport school students Elza Tomase and Alise Vindiga, an additional Wild card has received our Patrīcija Špaka.
January 17-19 in Liepaja LOC Tennis hall will take place 1st leg of Latvian Tennis Union Cup for Adults, where the women winner will receive a Wild card to the ITF W15 "Liepaja Open" tournament.
Everyone is welcome to support the tennis players in the LOC Tennis hall. Entrance for visitors is for free.
Photo: Mārtiņš Vējš