August 31 till September 4 in the Liepaja Tennis sport school tennis courts at the Jūrmalas parks will take place ITF World Tennis Tour Juniors J5 category tournament "Liepaja International by Prince" for U18 age group.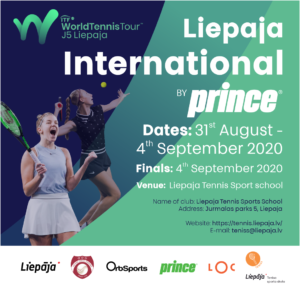 In Liepaja Tennis sport school and Latvian Tennis union organized already traditional tournament will participate 94 young tennis players from Belarus, Ukraine, Italy, Switzerland, Great Britain, Canada, Russia, Finland, Sweden, Ireland, Germany, Estonia, Lithuania and of course Latvia. Liepaja Tennis sport school will be represented by Dāvids Špaks, Dāvis Rolis, Evelīna Ķīvīte, Alise Vindiga and Anastasija Rižkova.
Tournament is supported by Prince and Liepaja municipality.