With tournament in September 7 at the tennis courts of Liepaja Tennis sport school will begin "Liepājas meistarsacīkstes by Ferax" (Liepaja Championship by Ferax) tour for four age groups, to find out best tennis players from Liepaja in 2020 Summer season.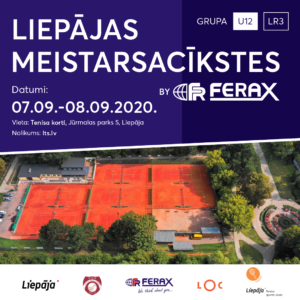 In September 7 and 8 for the 2020 Liepaja Champions title will compete U12 age group. In September 9 and 10 tournament will be for U14 age group. After a week, in September 17 and 18 the tournament will be held for U18 age group, but in September 19 and 20 the "Liepaja Championship by Ferax" will take place for adults. In each tournament will compete 16 girls and 16 boys. Tournament prizes will be presented and developed by "Ferax".
Tournaments are supported by Liepaja based company "Ferax" (https://www.facebook.com/ferax.lv) and Liepaja City. Special thanks for support to Andrejs Žukovs.