Trips to Latvian national team games
When international competitions with the Latvian national team are organized in Latvia or in one of our neighboring countries, students and coaches of the Liepaja Tennis sport school are scheduled to attend these games.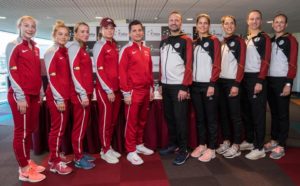 Graduations
As Liepaja Tennis sport school is an educational institution, of course, graduations are organized. Graduates do graduate educational programs. They are organized during the autumn months.
Olympic day
In the autumn, the event "Olympic Day" is traditionally held throughout Latvia. Liepaja Tennis sport school also participates in Olympic Day activities by organizing informative and educational introduction to tennis and its facilities, as well as demonstration and testing of various tennis elements. Students of comprehensive schools and vocational education institutions of the city of Liepaja participate in the activities of the Olympic Day.
Lāčplēsis Day Torch procession
Students of Liepaja Tennis sport school together with their families and coaches take part in Lāčplēsis Day Torch (November 11). At the torch walk, children go with tennis rackets wrapped in a string of lights.
Meetings and trainings with Anastasia Sevastova
When the graduate of the Liepaja Tennis sport school, Anastasia Sevastova, a world-class tennis player, visits Liepaja, due to her interest, meetings are organized with students of the Liepaja Tennis sport school and their parents. If possible, open workouts are also organized.
Christmas event
Traditionally, Christmas events are organized for all students of Liepaja Tennis sport school. Christmas events are organized according to the age of the children. For example, for older students different physical activities are organized and for younger students different activities, games and fun dances are organized..